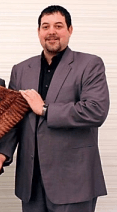 A veteran of several high-level executive positions in the gaming industry, Joe Olujic has made an indelible mark by ensuring every organization he leads adopts a focus on a service-oriented customer experience. Having worked in leadership positions in the industry for the past 14 years, Mr. Olujic has seen firsthand the kind of positive impact this approach can have on an organization, especially for those organizations that are located in areas that are already inundated with countless gaming opportunities.
Mr. Olujic gained a great deal of industry experience while serving in his role as assistant general manager for the Oneida Tribe of Indians of Wisconsin. While the primary focus of this role was on finance, his eight years working with the Oneida Tribe were instrumental in shaping the leadership approach he has since adopted. Mr. Olujic quickly realized that the gaming industry is one that is driven by the people who are drawn to the gaming experience and by the people who provide that experience.
It is through this realization that Mr. Olujic began to truly emphasize the importance of human resources and the many ways gaming employees contribute to the experience that customers want to return to again and again. In each organization he has led, Mr. Olujic has sought to surround himself with dynamic and highly motivated individuals in order to develop a greater all-around gaming experience, which, of course, also leads to another valuable development: increased profitability.
As the COO of Osage Casinos, Mr. Olujic oversaw the organization's significant expansion in a market that was already dominated by gaming. While Oklahoma is known to be dense with gaming opportunities, Mr. Olujic helped to create a separation from the competition by offering customers a unique, service-oriented experience that could not be found elsewhere. In addition to these efforts, he also oversaw the expansion of the organization into the hospitality industry as well.
Through it all, Mr. Olujic has credited his focus on human resources as a key to his successful career in the gaming industry. Named one of Global Gaming Business Magazine's People to Watch in 2014, Mr. Olujic has consistently displayed an impressive work ethic and a passion for all of his many projects. Above all else, however, it is Mr. Olujic's skill for team building that is perhaps most notable.
While many executives seek out team members who present a shared perspective, Mr. Olujic tends to prefer those who are willing to express a contrarian position. Of course, Mr. Olujic does not seek out those who are simply prone to disagreement, but rather those who are willing to stand behind an idea or concept simply because of a strong sense of belief in that idea or concept, even if it means disagreeing with a superior. These are the kind of people that Mr. Olujic believes contribute the most to the overall success of any organization, whether that organization is in the gaming industry or any other industry.
In addition to his highly regarded skills as it relates to hiring and building an effective leadership team, Mr. Olujic has consistently demonstrated an aptitude for negotiation. Mr. Olujic has been involved in his fair share of contentious negotiations during his 14 years in the gaming industry, emerging from each negotiation with a deal that he believed to be favorable to all the parties involved. While negotiation is certainly a strength, Mr. Olujic has also shown throughout his career in the gaming industry that he is a capable strategic planner, particularly as it relates to managing both short- and long-term organizational goals.
Throughout his many years in executive-level leadership positions in the gaming industry, Mr. Olujic has been frequently tasked with ensuring the long-term profitability of an organization while also maximizing short-term profit margins. Achieving such a goal is hardly a simple task, yet Mr. Olujic has delivered consistently outstanding results that have effectively secured the long-term profitability of a number of organizations while also improving upon the immediate returns as well.
As a gaming industry executive with 14 years of practical experience, Mr. Olujic has dealt with all manner of challenges and has a reputation for overcoming the obstacles that are seemingly ever-present in the gaming industry. Mr. Olujic's success in the industry is a credit to his outstanding work ethic and his firm commitment to creating a service-oriented experience for every organization he has served.